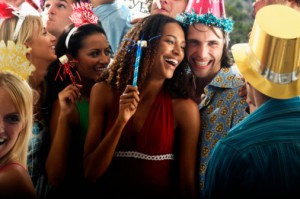 As 2014 comes to a close, men and women from all over the world are preparing to welcome the New Year with promising resolutions of self-improvement. While many may commit to quit smoking, lose weight, or spend their money more wisely – all of which are wonderful resolutions – we'd like to invite you to entertain the idea of another type of New Year's resolution: revitalizing and repairing your smile. Whether you are in need of single tooth replacement, cosmetic enhancement, or even full-mouth reconstruction, Dr. Barry Franzen can help you say hello to 2015 with the healthy, beautiful smile you want and deserve.
Your Milwaukee, WI Dental Implant Specialist
Studies have shown that even a single missing tooth can drastically impact an individual's self-perception and self-esteem, not to mention the ability to eat and speak properly. Badly damaged or missing teeth may lead to malnourishment due to an inability to chew certain foods, making restorative dentistry one of the most important aspects of oral health for patients suffering from decay or disease. Fortunately, Dr. Franzen offers an extensive selection of prosthodontic, restorative, and cosmetic dentistry solutions, each of which is customized to fulfill your individual needs. These include:
Take a look at our photo gallery now to see what an amazing difference our services have made for some of our own patients, and explore the possibilities for yourself.
For nearly 25 years, Dr. Barry Franzen has helped patients from throughout Milwaukee and the surrounding areas achieve healthy, radiant smiles and exceptional oral health with an all-encompassing range of prosthodontic solutions, including tooth replacement with dental implants. Discover the difference his experience, expertise, and commitment to patient satisfaction can make in your smile and in your New Year.
Welcome 2015 with a Gorgeous New Smile
If you're ready to make a step in the right direction toward a healthier, more confident smile, we encourage you to contact us today to schedule your visit with Dr. Franzen. We can't wait to show you how easy it can truly be to transform your damaged smile with our state-of-the-art restorative dentistry services and cosmetic solutions. Our caring, experienced team genuinely looks forward to caring for you as if you are a member of our own family, providing you with everything you need to regain optimal oral health and a smile you'll love for years to come. Our warm, welcoming office in Milwaukee, WI is privileged to serve patients from throughout the surrounding areas of Wauwatosa, Cudahy, Whitefish Bay, Greenfield, West Allis, and more.