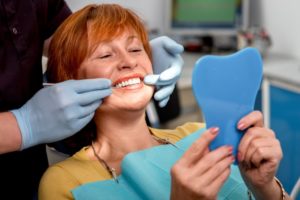 Have you recently been experiencing the pitfalls that come with tooth loss? Perhaps you've had full or partial dentures for many years now, but don't want to settle for them any longer. Either way, if you're reading about dental implants in Milwaukee, then you've just found the best option for replacing your teeth, getting your eating habits back, and smiling like you always did.
There are few replacement options in dentistry as effective and aesthetically pleasing as dental implants. Let's take a moment to learn about the process of receiving implants so that you know what to expect before visiting your dentist.
Are You a Candidate for Dental Implants?
During your dental implant consultation, your dentist will ask you questions to determine if implants are right for you. The most important step your dentist takes is determining if you have enough bone density in your mouth to receive implants. If not, they may recommend a bone graft to increase your chances of successful implantation.
Additionally, you may not be eligible if you:
Smoke or use any other forms of tobacco
Have uncontrolled diabetes
Have autoimmune diseases or take medications for these conditions
Have had radiation therapy to the head or neck
Your body needs to be able to heal the implant effectively, otherwise it won't take as well as it should.
The Initial Procedure
Once your dentist determines you are eligible and you've discuss how many dental implants you'd like to get, they'll schedule the first step of your dental implant process. On the day of your first procedure, the following steps will take place:
First, you'll be given antibiotics and pain medicine prior to the surgery. You'll also be given local anesthesia or sedatives if needed to help relax you.
During the surgery, your dentist will then make an incision in your gums, exposing the bone. They'll drill a hole into the bone to make room for the titanium implant itself.
Lastly, they'll place the implant and stitch the area closed, allowing you time to heal.
The initial healing process takes about 7 to 10 days. Once you get your stitches removed, you'll need to care for the implant area for several months while the implant effectively integrates with your existing bone. If the implant is visible, you'll be given a temporary restoration to cover it. However, implants are typically underneath gum tissue and therefore hidden.
The Final Stages
Once several months have passed and the implant has integrated, you'll have your second appointment to have the protective screw on your implant replaced with a healing cap. This maintains space and allows your gum to heal correctly around the implant.
After your permanent restorations are made, which can take a few weeks, you'll come back to have them placed. Dental implants are incredibly versatile and can be used with crowns, bridges, and even dentures. If you have more questions about the dental implant process, schedule an appointment with your dentist to learn more about dental implants in Milwaukee today!
About the Author
Dr. Barry R. Franzen earned his Doctor of Dental Surgery degree from the Marquette University School of Dentistry and gained his prosthodontic training at the University of Missouri and Truman Medical Center. His focus was esthetic replacement teeth and implant dentistry. Since graduating, he's become a Fellow Member of the International Congress of Oral Implantologists. To learn more about his background in implant dentistry or about his practice, contact him at (414) 543-5432 or visit his website.