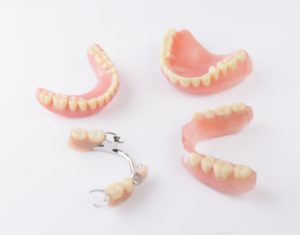 We know it can be difficult living life with missing teeth. Not only does your self-esteem take a hit, but if not treated quickly, you can face multiple issues with your appearance, bite, speech, and chewing abilities. If you are tired of the vacated sockets staring back at you each day, talk to your dentist in West Allis, WI about dentures and partials. Learn how they can not only give you back your smile but how proper maintenance can keep them lasting for years.
Why Choose Dentures for Missing Teeth Treatment?
If you are missing a few or all your teeth, there are available treatment options in the form of full and partial dentures. These prosthetic teeth are attached to a gum-colored base made of plastic. Not only do they look like natural teeth, but they feel comfortable, too.
Partial Dentures
While a partial replaces only a few teeth, they require clips and brackets that secure to your remaining natural teeth. They're removable and can give you a seamless smile.
Full Dentures
When all teeth need to be extracted or have fallen out, full dentures can give you back your smile. These prosthetics use the natural suction of your mouth to stay in place; however, some people opt for a dental adhesive to add a bit of extra security.
In addition to full and partial dentures, you can discuss the possibility of implant-retained dentures that are surgically placed in your jawbone for a secure fit. However, not everyone is a candidate for dental implants because there must be enough bone strength for the implant to fuse to.
How Can I Keep My Dentures Clean?
Don't be mislead by the idea that just because you have prosthetic teeth, you don't need to take care of your oral health. It's important that if you have remaining natural teeth to brush and floss them regularly to prevent gum disease and tooth decay. And, no matter if you have a full or partial denture, you should make sure to take proper care of them to ensure their longevity. Here's how you can do it:
Using a soft-bristled toothbrush, brush your dentures at least once a day.
Clean your mouth after removing your dentures using a soft-bristled brush. You'll want to clean your tongue, roof of your mouth, gums, and cheeks.
After removing your dentures, make sure to rinse them, especially after eating.
Remove them at night, letting them soak. If they have metal clasps, soak them in warm (not hot) water. For full dentures, you can use a special denture cleaner. This will remove stains, plaque, and bacteria.
Attend regular dental checkups, even if you rely on full dentures.
Don't use abrasive cleaners, bleach, hot water, or whitening toothpaste on your dentures.
Don't let your missing teeth take the fun out of life. Talk to your dentist in West Allis, WI about dentures and if they're the right solution for you.
About the Author
Dr. Barry Franzen earned his DDS degree from the Marquette University School of Dentistry before receiving his prosthodontic training at the University of Missouri and Truman Medical Center. Chosen as one of Milwaukee Magazine's Top Dentists of Milwaukee in 2003, 2009, and 2016, he and his team of dental experts strive to offer a wide array of dental services, including restorative dentistry treatments like dental implants and dentures. To learn more, contact us at (414) 543-5432.