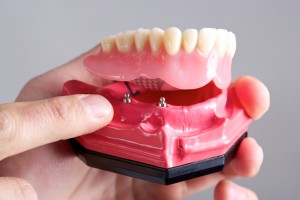 When it comes to tooth loss, you now have many options available to restore your quality of life and smile. New advancements in dentistry make it easier than ever to permanently replace your missing teeth. While traditional dentures have been the go-to solution for tooth replacement for decades, many are now turning to implant retained dentures due to the many amazing benefits they offer. As a leader for dental implants in Milwaukee, we offer the perfect solution you need to resolve the issues of missing teeth.

Traditional Milwaukee Dentures
While traditional dentures are effective for restoring your ability to eat and speak when suffering from tooth loss, traditional dentures also come with certain setbacks. Dentures are known to cause slipping and discomfort after a while, not to mention they don't offer the same biting force as natural teeth or implants. Since dentures are removable, you have to take extra cleaning precautions and use adhesives to keep them in place. In addition, dentures don't stimulate new bone growth like retained dentures do.
Implant Retained Dentures
Implant retained dentures offer a host of benefits when compared to traditional dentures. Since the dentures are surgically implanted into the jawbone, they are a permanent solution to resolve missing teeth while closely mimicking your own natural teeth. Since the implants have a sturdy foundation upon being implanted into the bone, they offer an increased biting force. Plus, they won't slip or cause discomfort as they stay securely in place.
Caring for implants is simple. Just brush and floss normally, while visiting the dentist for regular cleanings. There's no need for extra cleaning steps or messy adhesives. Best of all, retained implants allow you to stimulate new bone growth while preserving your remaining bone. Once a tooth is lost, your bones and supporting structures begin to deteriorate. Implants stop the deterioration and encourage new growth.
Dental Implants in Milwaukee
As with any dental implant, titanium posts will be surgically inserted into the jawbone to hold the implant in place. However, if you're replacing all of your teeth in the top or bottom jaw, an average of only 4 posts are needed to securely hold the implants in place. The permanent solution is cost effective and can be removed if need be. It's a fast alternative to resolve the problems and discomfort of traditional dentures.
As a leader for dental implants in Milwaukee, Dr. Franzen will restore your smile and ability to eat and speak normally using the implant procedure. With a 98 percent success rate, he'll create the customized treatment plan you need to restore your tooth loss. As the bio-compatible titanium posts fuse naturally with your jawbone, your custom crowns will be attached to give you the beautiful, natural-looking smile you want.
With retained implants, you'll not only improve your smile, but also your quality of life. With a mission to provide the best dental care possible, Dr. Franzen is by your side to help you smile confidently. If you're ready to promote your smile and quality of life, contact Dr. Franzen today to learn more about implant retained dentures.