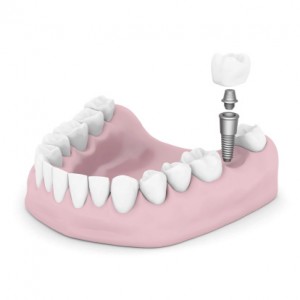 This is a common question we hear at the office. Men and women who are missing teeth in the front of their mouths typically rush to replace them as quickly as possible. This is because it is considered socially unacceptable and unattractive to have visible gaps in your smile. Many patients who are missing posterior teeth (those located in the back of the mouth) believe that because no one can see the problem, it doesn't require as much attention. This misconception is a common one, and today we'd like to talk about why the opposite is actually true.
The Importance of Replacing Missing Teeth
When even a single tooth is lost, regardless of its position in the mouth, any remaining healthy teeth are compromised. This is because the bone tissue in the jaw requires the stimulation afforded by your tooth's root. Without the root in place, the bone begins to atrophy, putting other teeth in the area at risk. With a permanent tooth replacement option like dental implants, Dr. Franzen can effectively halt the damage and preserve more of your jaw's natural structure.
Another reason that replacing a posterior tooth is important is related directly to diet. Each of your teeth plays a vital role in your ability to chew properly. When chewing efficiency is diminished, it becomes exceedingly difficult to maintain a healthy and balanced diet. Because dental implants mimic the natural structure of a complete tooth, you are able to enjoy a full diet without restrictions, thereby vastly improving your overall health.
Reclaim Your Total Oral Health with Dental Implants
As your trusted Milwaukee, WI prosthodontist, Dr. Barry R. Franzen is committed to helping you achieve not only a more beautiful smile, but improved oral health for life. Whether you are missing a single tooth or you're interested in replacing an entire arch, our team is here to help. With decades of experience, the latest technology in the industry, and a sincere passion for helping our patients, we are your premier tooth replacement practice in Milwaukee and the surrounding areas. Dr. Franzen proudly welcomes patients from communities in nearby Cudahy, Wauwatosa, West Allis, Whitefish Bay, Greenfield, and beyond.