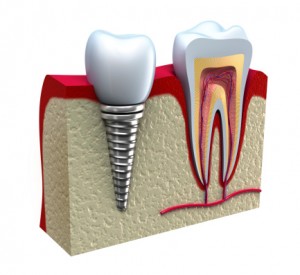 The loss of an adult tooth is among the most traumatic experiences a person can endure. It is estimated that approximately 178 million Americans are missing one or more teeth, and 37 million are completely edentulous (without any teeth). The importance of replacing missing teeth simply cannot be emphasized enough, particularly when you take into consideration the many negative effects a patient suffers as a result of tooth loss. At Barry R. Franzen, DDS in Milwaukee, WI, Dr. Franzen helps patients reclaim their full, healthy smiles with a variety of restorative dentistry solutions, including dental implants.
Missing Teeth: More Than a Cosmetic Issue
When most people consider the effects of missing teeth, the first thing that comes to mind is typically how mortifying it would be to smile in public or in photographs. No one wants to show off an incomplete smile, but there are far more complications associated with missing teeth than cosmetic concerns.
When you lose a tooth, the bone tissue in your jaw begins to deteriorate without a tooth root to keep it strong. As bone volume diminishes, the risk of additional tooth loss increases. The face may take on a sunken appearance, and remaining teeth begin to shift out of their proper positions to compensate for the gaps left behind.
Missing teeth can also dramatically affect speech and the ability to eat a complete diet. Dr. Franzen can help you restore your dentition with dental implants, the most lifelike and durable tooth replacement option available. Dental implants are surgically placed within the jaw, closely mimicking the functionality of a natural tooth. This helps to preserve your jaw bone tissue, substantially improving the health and stability of your smile.
Healthy Smile, Healthy Life
When you entrust the health of your smile to Dr. Franzen and his team, you're taking the first step toward a healthier future overall. Contact us today to schedule your consultation with Dr. Franzen, Milwaukee's premier prosthodontist and dental implant specialist. We genuinely look forward to serving you, allowing you to enjoy the innumerable benefits of a full, healthy smile. Our state-of-the-art prosthodontics practice proudly serves patients from throughout Milwaukee and nearby communities, including Wauwatosa, West Allis, Cudahy, Greenfield, Whitefish Bay, and beyond.