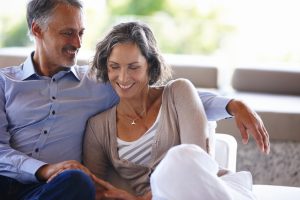 You can practically hear the engines revving at the Harley-Davidson Museum. You're surprised to see how light and small the first bikes were compared to the monsters of today. Some of them have been preserved wonderfully and look like they just rolled out of the factory yesterday. You wish your smile could have lasted this well over time. You have broken and missing teeth and they make you feel self-conscious every day. You're even making sure to not smile as you're looking at the bikes. For someone like you, Milwaukee porcelain crowns and fixed bridges from Dr. Barry Franzen may be the solution your smile needs.
Porcelain Crowns
Whenever one of your teeth has become damaged due to decay or injury, the structure needs to be restored so it can function and look normally. One of the most reliable ways to do this is with a porcelain crown. A crown is like a cap and fits over your tooth in order to repair it. Porcelain crowns are especially preferred by dentists over metal crowns for a few reasons. Firstly, the ceramic itself is strong, durable, and has a better chance of lasting over time. Also, they can be specially colored to blend in seamlessly with a patient's smile. This means they not only can help a person medically, but cosmetically as well.
The procedure to get a crown is entirely painless and you can get one with just two stress-free visits to the office.  Crowns can be maintained just like your natural teeth, and can last for decades with routine brushing and flossing.
Fixed Bridges
Dr. Franzen can even help replace your missing teeth with fixed bridges in Milwaukee. They work by using your teeth on either side of the gap left in your smile to support a prosthetic (or pontic) tooth. This pontic tooth simply sits on your gums and looks completely natural. Depending on the condition of the two supporting teeth, they may need to be capped with crowns so they can provide the proper hold. If you are missing a row of teeth, bridges can also be supported by dental implants, which involves a small metal post being implanted into your jaw that is topped with a porcelain crown.
Bridges are one of the quickest and easiest ways to bring back your missing teeth. You can get one in as little as two visits, and it doesn't require surgery or an extended healing time like dental implants. For people who want to get their smile fixed now, bridges are the way to go.
Any Questions?
Your smile deserves to be complete. It's been too long since you've felt completely confident and worry-free, and it's time to change that. Porcelain crowns and bridges can give you the peace of mind you have been missing, so if you're ready to show the world a new smile, make an appointment with us today.