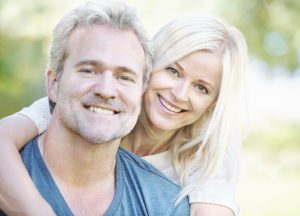 When you meet someone for the first time, what do you notice first? Most people say a person's smile. And no wonder—a smile can speak volumes before you speak a single word. To make sure your smile looks as attractive as possible and communicates self-confidence, schedule a consultation with Milwaukee cosmetic dentist Dr. Barry Franzen. Together, you will decide which of our cosmetic dentistry procedure you need to show the world your best smile.
Teeth Whitening
Want to take years off of your age? Whiten you teeth. As we age, our teeth tend to yellow—a dead giveaway that someone is getting older. A white smile, on the other hand, imparts a more youthful appearance. Dr. Franzen and his staff offer both in-office and take home teeth whitening systems. The in-office whitening solution contains a high concentration of peroxide for a whiter smile in just about one hour. Our take-home kit includes customized mouth trays and gel that will whiten just as well, but over the course of two weeks of nightly treatment.
Porcelain Veneers
If you have teeth that are chipped, cracked or broken, then you know that's what people see when you smile. You can conceal these smile detractors with porcelain veneers. As a prosthodontist, Dr. Franzen has additional training in creating prostheses—dentures, partials, bridges and dental implants in Milwaukee—that are above and beyond what a dentist can provide. Therefore, you can be sure that your porcelain veneers will also be expertly designed and crafted.
Made of dental porcelain or composite resin materials, veneers are cemented to your front teeth in order to cover damaged teeth with a smile that is more aesthetically pleasing.
Porcelain Crowns
To restore the form and function to a tooth that is severely decayed, worn, cracked or otherwise damaged, Dr. Franzen may recommend a porcelain crown. Where a porcelain veneer only covers the facial side of a tooth, a crown completely encapsulates a tooth. A porcelain crown will protect your tooth from any further damage and add strength and durability to your tooth's natural structure. And with our color matching system, no one but you and Milwaukee cosmetic dentist Dr. Franzen will know that you've had a tooth repaired with a porcelain crown.
Call Your Milwaukee Cosmetic Dentist Today
If you're thinking of enhancing your smile with cosmetic dentistry, then contact the dental office of Dr. Barry Franzen in Milwaukee, WI.