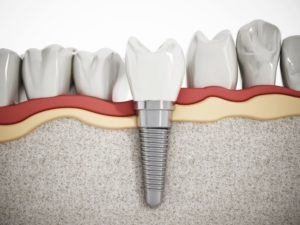 If you have missing teeth and have been doing any research regarding replacing them, you probably know that dental implants are your best option for achieving a stable, natural looking and feeling smile again. But what if you have severe tooth loss?
It's still no worry! You just might need multiple dental implants in Milwaukee. Learn more about dental implant placement in this week's blog post.

What's it like to get multiple dental implants?
Patients who need a single dental implant post or even several for full mouth reconstruction in Milwaukee, you'll need to undergo the same two phase dental implant placement process.
During the initial step, the implant posts are surgically placed into the jawbone. The treatment involves making a small incision into the gums. Then, your implant post is carefully placed into the jaw. You'll need to undergo a healing period before the second phase.
After several months of healing so that your implant can fuse to the jaw, your dentist will be able to move forward with attaching the abutment and appropriate dental prosthetics.
How do I know how many dental implants I will need?
The number of dental implants used will depend on your level of tooth loss and the areas of the mouth where your teeth still exist. Each case is different because everyone's mouth is different, but patients typically receive the following numbers of dental implants:
One implant post is used to support a single dental crown to replace just one missing tooth. Sometimes, patients may be able to use a single implant to place a dental bridge to replace two consecutive missing teeth.
Two implant posts can be used to support a fixed bridge to replace three or more consecutive missing teeth. Each of the dental implants will be placed on the ends of the affected area, literally creating a bridge to close the gap in your smile.
If you need full mouth reconstruction, you can expect to receive 3 to 6 strategically placed dental implants to support an implant-retained denture.
Are you ready to explore how dental implants may be able to help you? To get started, you must schedule a consultation with your dentist in Milwaukee to discuss your options.
---
About Our Office
Here at the dental office of Barry R. Franzen, DDS, we are committed to the best possible dental care for our patients—even when they have one or more missing teeth. It's especially important to us to serve patients who have missing components of their smile—even those that are edentulous—because we can help them gain their confidence and improve their oral health by replacing their teeth. We're sure to serve dental care with gentleness, provided with skill and precision and prescribed with understanding and expertise. Our goal is a lifetime of excellent oral health and a commitment to beautiful smiles for everyone. Feel free to contact us for the best possible dental service.