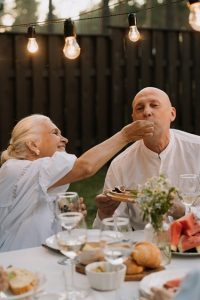 If you have a big date for Valentine's Day, you've replaced your missing teeth with dentures just in time. While they'll look and feel natural after just a few days, they may be a little awkward initially. You don't have to worry about not being able to end the night with a kiss. Although it's going to take some practice, here's what you need to know before puckering up for a kiss.
Kissing With Dentures
Treating your tooth loss is a great way to rekindle your romantic life. You will look your best and boost your confidence with a new set of teeth. Advanced technology allows them to fit your mouth like gloves. Suction holds your denture in place, so you don't need to stress about your teeth falling out when chatting, laughing, or eating.
You can expect an adjustment period after getting dentures, which may make them feel a little unusual at first. While getting used to them, it's common to bump your fork on your teeth or experience minor mishaps because your dentures don't have any nerve endings. As a result, new denture wearers might accidentally bump their partner's teeth when going in for a kiss too quickly.
Thankfully, practice makes perfect. It's best to go in slowly and cautiously for a kiss. If you're concerned about your denture getting moved from position during a passionate moment, use an adhesive for the night. You'll have added security and confidence to spend more time focusing on the special someone in your life.
Tips for Dating With Dentures
If you're new to dating with dentures, it's normal to have a few concerns, but don't fret. Here are a few tips to get through a date with your new pearly whites:
Clean Your Dentures: Nothing is more embarrassing than bad breath on a date. Clean your dentures using a soft-bristled toothbrush and mild hand soap or dishwashing liquid. Place them in an overnight soaking solution to kill any odor-causing bacteria left behind from brushing.
Consider an Adhesive: Well-fitting dentures don't require an adhesive; however, if you'll be eating a steak dinner or doing a lot of talking, an adhesive can prevent slipping.
Drink Plenty of Water: Water will keep your mouth moist to combat bacteria and plaque that can lead to bad breath. It will also help keep your dentures in place to avoid any irritation.
Don't let anxieties about your new dentures stop you from enjoying the moment. With a little practice, you'll be kissing like a pro by the end of the night.
About Dr. Barry R. Franzen
Dr. Franzen earned his dental degree from the Marquette University School of Dentistry and received his prosthodontic training at the University of Missouri and Truman Medical Center. He has the advanced qualifications to treat the most complex cases of tooth loss. If you're ready to rebuild a beautiful smile, request an appointment through our website or call (414) 543-5432.