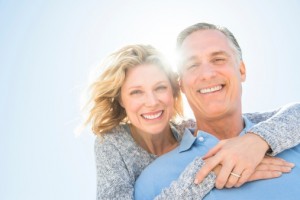 Missing teeth negatively affect your daily life in a variety of ways, keeping you from speaking clearly, smiling confidently, and eating the foods you'd like. The failure to replace even one missing tooth can result in potentially serious oral health complications, and it's important to act as quickly as possible after the loss of a tooth. At the Milwaukee, WI office of Dr. Barry R. Franzen, patients who have lost teeth to injury, decay, or gum disease reclaim their smiles with a variety of restorative dentistry solutions, including implant supported crowns and implant-supported bridges.
How an Implant-Supported Crowns and Bridges Help Save Your Smile
An implant-retained crown is indicated for the replacement of a single missing tooth, whereas an implant-retained bridge replaces multiple teeth.  A titanium implant is anchored to the bone where the natural tooth root used to reside.  Natural looking replacement teeth are then attached to the implants to complement your smile and function. Unlike traditional crown and bridge treatment – which involves removal of significant tooth structure from adjacent teeth – an implant-supported crown or bridge is a stand-alone replacement  that can be delivered without preparation of surrounding teeth. This allows Dr. Franzen to preserve more of your natural smile.
Teeth Replacement: More Than Just Esthetics
In the absence of even a single tooth, surrounding teeth begin to shift from their proper positions. Over time, this can lead to more than mere cosmetic issues; as your teeth become unevenly spaced, you may find difficulty chewing and speaking. Your gums become progressively more susceptible to periodontal disease, a chronic infection of the gingival tissues and the bone structures that hold teeth in place.  This simple and predictable procedure allows you to enjoy a full smile that looks and feels natural.
Dental implants are safe, predictable, and the process is relatively simple. Your replacement teeth are meticulously crafted of the highest-quality dental materials in order to match the shape, size, and color of your natural dentition. You'll love how natural your smile looks, as well as the longevity and stability afforded by your implant-supported bridge.
The Complete Smile You Deserve
If you are missing  a single tooth or numerous teeth and are interested in learning more about how an implant-supported bridge can benefit you, we invite you to contact us today.  Schedule your personal consultation with Dr. Barry Franzen. We can't wait to show you what an incredible difference our genuine commitment to your oral health and comfort can make in your life. Our state-of-the-art dental practice in Milwaukee, WI proudly serves patients from throughout the surrounding areas as well, including Greenfield, Whitefish Bay, West Allis, Cudahy, Wauwatosa, and beyond.