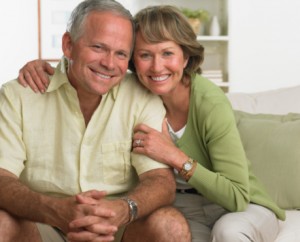 When you are searching for a comprehensive solution to multiple oral health issues, you want to be sure that the procedure you ultimately choose will address all of your problems as efficiently as possible. For severe cases – such as those that require the replacement of multiple teeth and the treatment of infection – full-mouth reconstruction may prove the best option. At the Milwaukee, WI prosthodontic office of Dr. Barry R. Franzen, patients seeking extensive dental rehabilitation are invited to explore the possibilities afforded by full-mouth reconstruction and more.
What is Involved in a Full-Mouth Reconstruction?
The type of procedure required to meet your needs will depend largely upon your unique oral health concerns. The most common reasons that full-mouth reconstruction is recommended include:
Teeth that have been lost due to decay, disease, or traumatic oral injury
Teeth that have been fractured or worn down, particularly due to acid erosion or bruxism (teeth grinding)
Recurring pain in the head, jaw, and neck due to occlusion issues; resultant need for ongoing adjustments of the bite
Advanced periodontal disease, resulting in loose, shifting teeth and/or tooth loss
A full-mouth reconstruction differs from a smile makeover in that it is a procedure that aims to restore functionality as well as aesthetics. A smile makeover is an elective treatment that addresses only cosmetic aspects of your smile. With a full-mouth reconstruction procedure, you'll enjoy improved comfort and oral health in addition to a more beautiful and youthful appearance.
A popular solution frequently utilized in full-mouth rehabilitation is the placement of dental implants. Using biocompatible materials and custom restorations, Dr. Franzen effectively replaces missing teeth in a way that looks and feels completely natural. You'll love your new smile and the freedom that comes with a full set of beautifully crafted, completely lifelike teeth.
Schedule Your Consultation Today
Your journey toward a healthy, rejuvenated smile begins with a comprehensive consultation with Dr. Franzen and our caring, experienced staff. With nearly 25 years of experience in his field and the latest in prosthodontic technology, Dr. Franzen is Milwaukee's premier destination for restorative dentistry, especially dental implants and full-mouth reconstruction. Contact us today to schedule your visit, and discover the difference that our commitment to your oral health can make in your life. Our state-of-the-art dental practice warmly welcomes patients from throughout communities in Milwaukee, Greenfield, West Allis, Whitefish Bay, Cudahy, Wauwatosa, and beyond.