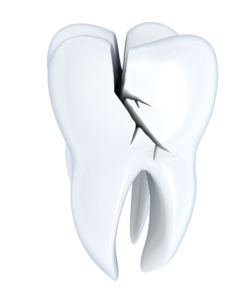 Have you woken up in pain after you roll over to lay on your side? You start noticing that every time you lay on your side, you have an unbearable shooting pain in your mouth. Believe it or not, you may be experiencing a dental emergency! This toothache could be from a deeply embedded dental infection.
Anytime you experience tooth pain, or any other dental trauma, you need to consider it as a dental emergency. For that reason, your dentist has crafted this quick step by step guide for you to stay prepared when you're faced with one.
1.     Identify Your Dental Emergency
When dental emergencies occur—no matter what day it is—too many adults are left waiting in pain at an emergency room for assistance. A good dentist understands how miserable tooth pain is. That's why it's so important to find a dentist that offers emergency dental care. Some common dental emergencies include:
Broken, cracked or fractured tooth
Serious cuts on the lips, tongue or cheeks
An object stuck between teeth
Severe toothache
Suspected broken jaw
Lost dental fillings or damaged restorations
2.     Learn to Handle Dental Emergencies
The best thing you can do when faced with a dental emergency is to keep calm and contact your dental practice. You must be able to make rational, well-thought-out decisions to save the teeth in your smile. Here are a few extra tips that can help you while you make your way to your emergency dentist in Milwaukee.
A knocked-out tooth
A knocked-out tooth may be re-implanted if your dentist is able to reach it within an hour. When a tooth is knocked out, rinse it with warm water, but don't remove any of your soft tissues if they're attached. Place the tooth back into the empty socket, and hold it in place while making your way to the office.
If you cannot replace it, put the tooth in milk or water in a sealed container or plastic bag and bring it to the office.
Cuts in your mouth or soft tissue laceration
Place direct pressure on the site using sterile gauze pads or clean cold compress. If bleeding does not resolve within 10 to 15 minutes, visit your nearest emergency room to stop your excessive bleeding.
A toothache or abscess
Over the counter ibuprofen or acetaminophen can temporarily relieve dental pain. A warm compress can also comfort your throbbing jaw.
3.     Avoid Dental Emergencies
It's important to visit your dentist every six months for an oral exam and professional cleaning as these preventive dental services keep teeth and gums healthy, protecting them against dental emergencies. It's also best to add your dentists phone number to your contacts. This way, your dentist can always offer helpful advice over the phone while you make your way to the dental practice.
---
About Our Office
If anyone knows about dental emergencies, it's Dr. Barry R. Franzen. He sees countless patients and helps them relieve and resolve their dental pain. Our office understands dental pain is not the best thing to deal with—especially for a long period of time. You can seek swift help when you add our phone number to your contacts. This way, you'll always be prepared. Have any other questions? Feel free to contact us!