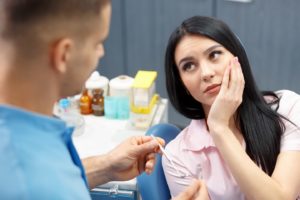 As you start your day, the last thing on your mind is an unexpected dental emergency. However, one in six Americans will experience one this year. No matter if you have a sudden pain, broken tooth, or a traumatic oral injury, you must have confidence in your dentist in Milwaukee. You deserve the best dental work in any situation, but most importantly during emergencies to help you through the stressful situation.

Trust Your Emergency Dentist
A dental emergency can take many forms and occur without any warning. Among the most common situations that require immediate care involve knocked out or dislodged teeth, breaks and fractures, lost restorations, and infections.
No matter the issue you are having, you need a trusted dentist to quickly resolve the problem while keeping the long-term health and aesthetics of the tooth in mind. With quick care from a reputable dentist, your oral health will be rehabilitated and your discomfort will be treated so you can quickly get back to enjoying your day.
Get the Immediate Care You Deserve
When facing a dental emergency, time is of the utmost importance. If you delay calling your dentist, your tooth may not be able to be saved. As a result, an extraction may be necessary. However, by calling your dentist right away, a customized treatment plan will be created to repair the damage while enhancing the appearance of your smile.
Knocked Out Tooth: Often, when a tooth is knocked out, many people tend to believe that it is gone for good; however, this is not always the case. With immediate care, your dentist may be able to save it. If it is no longer viable, tooth replacement options will be discussed to fill the empty space.
Dislodged Tooth: When a tooth is knocked out of position, it will be carefully evaluated to ensure its structure is not damaged. With the right care, it can often be moved back into position, allowing it to thrive for several years.
Broken or Fractured Tooth: A broken tooth will be quickly treated to prevent future damage while a customized treatment plan is created to restore its appearance. Using an all-ceramic dental crown or cosmetic bonding, it will be healthy and beautiful.
Lost Restoration: A lost or broken restoration will be replaced using high-quality materials to prevent future complications while improving the appearance of the tooth.
Toothache: A toothache is an indication of an underlying problem. Your dentist will find the cause and treat the issue to help rehabilitate your dental health.
Dentist Near Me for Emergencies
When facing a dental emergency, get the peace of mind you need with a dentist you can trust to provide you with the high-quality, compassionate care that you deserve.
About Dr. Barry R. Franzen
Dr. Barry R. Franzen is more than just a general dentist. He provides extensive services with a focus on restorative and implant dentistry. When an emergency occurs, he will treat the issue and restore your oral health using the best dental advancements. If you have an oral health emergency, you are in good hands with Dr. Franzen.