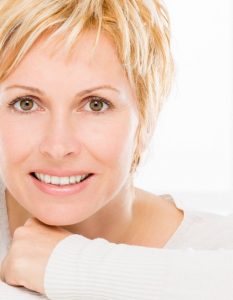 Dr. Barry R. Franzen, dentist in Milwaukee and Fellow in the International Congress of Oral Implantologists, uses dental implants to replace one or multiple missing teeth or to support permanent bridgework or dentures. Exceptionally stable and realistic, dental implants are artificial teeth from root to crown.
What is a Dental Implant?
A single dental implant has three distinct parts:
a titanium screw surgically inserted into the jawbone during an in-office procedure
a metal post that extends above the gums
A beautiful all-porcelain crown bonded to the post
For patients with adequate jawbone density and good oral and systemic health, the dental implant provides excellent aesthetics and remarkable anchorage. Unlike conventional dentures which slip, causing speech and eating problems and deterioration of the bone and gums, dental implants look and act like real teeth. As they are made from titanium, the implants bond right to the bone and actually strengthen it each time the patient bites and chews. No other tooth replacement options does that.
This bonding process is termed osseointegration. Unique to titanium metal and human bone, osseointegration is responsible for the 90 percent or higher success and retention rate of this dental prosthetic. Unlike traditional bridgework and dentures, dental implants last indefinitely and do not require cutting down of neighboring teeth.
The Dental Implant Procedure
The dental implant procedure takes a few visits over several weeks to months. After initial oral examination, digital X-rays, and three-dimensional digital impressions, Dr. Franzen formulates a patient care plan.
During the treatment, he drills a pilot hole into the patient's jawbone. Typically, this requires no more than local anesthesia, or pain shot. Guided by modern CAD-CAM imaging, the dentist screws the implant in place and sutures the site closed.
After several weeks of integration of the implant and bone, the patient returns for placement of the abutment and customized porcelain crown. The doctor adjusts the final fit and bite, and the procedure is finished.
Caring for Dental Implants
Care of dental implants is simple. Just brush twice a day with a soft brush and floss daily as advised by the American Dental Association. Patients should receive follow-up care and semi-annual exams and hygienic cleanings with Dr. Franzen and his team.
While dental implants are very durable and cannot decay, they are prone to an infection called peri-implantitis. Like gum disease, peri-implantitis infects the surrounding gum tissue and bone when patients don't practice good oral hygiene. Plus, smoking is a risk factor for peri-implantitis.
You Could Enjoy Dental Implants
If you are missing teeth and dislike traditional dentures or other replacement choices, contact Dr. Barry R. Franzen. He will be happy to consult with you on your particular oral health needs and explain the many benefits of dental implants. As he is a lecturer on dental implants, you can trust his expertise, and patients testify to the wonderful results.