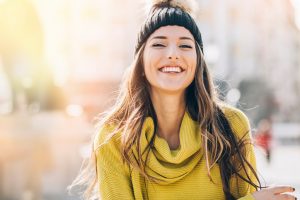 Can your smile affect how others perceive your personality and how you feel about yourself? The answer is yes, says the American Academy of Cosmetic Dentistry. Dr. Barry R. Franzen, dentist in Milwaukee, agrees. He offers many aesthetic dental treatments which transform teeth and gums into smiles that boost your self-image. It's something he and his talented team accomplish every day for their patients.
What are Your Smile Goals?
Along with examining teeth and gums and ensuring their optimal health, Dr. Franzen asks his patients what they would like to see change about their smiles. Is it:
That gap between two front teeth?
The color of tooth enamel stained by coffee, tobacco or simple wear and tear?
That excess gum tissue right in the smile zone at the front of the mouth?
Chips, cracks and other shape defects?
Ugly dark fillings?
Your cosmetic dentist in Milwaukee can transform all these defects and more. You can love your smile and love your life–no more hiding your teeth when you laugh and no more wondering what other people think about your smile. You can know that the first impression you make is an outstanding one!
The Consultation Process
When you have a cosmetic dentistry consultation with Dr. Franzen, he will give you a comprehensive oral examination, complete with digital X-rays and digital impressions as needed because establishing a oral health baseline is important. With that done, he can assess how to meet your smile goals. Dr. Franzen is an expert in all phases of preventive, restorative and aesthetic dental services. He is a Fellow of the International Congress of Oral Implantologists; so, you know that your care is in the best of hands.
With an agreed-upon treatment plan, Dr. Franzen uses one or a combination of aesthetic treatments to achieve a smile perfectly suited to your personal appearance and personality. Treatments can include:
Porcelain veneers These tooth-shaped shells of fine dental ceramic cover the frontside of teeth marred by deep stains, chips, hairline cracks and more. Translucent and color-matched to surrounding teeth, porcelain veneers are permanently bonded to tooth enamel. The dentist removes a small amount of enamel so the veneers fit comfortably within the mouth. Crafted in the dental lab by a master ceramist, veneers beautify and strengthen teeth for a more youthful, polished look.
Gum Lifts This laser procedure removes excess gum tissue for an even gum line and longer tooth appearance. A gum lift can make room for restorations such as porcelain crowns. Painless and requiring no sutures, gum lifts change smile appearance in one dental visit.
Teeth Whitening This popular service brightens stained tooth enamel by as much as eight shades of color. Professionally supervised to ensure safety and effectiveness, teeth whitening may be done in one visit to the dental office or more gradually at home. Both services employ strong hydrogen peroxide gel that lifts discoloring organic material out of tooth enamel.
Porcelain crowns These modern restorations are tooth-colored and natural looking. They support fixed bridgework, restore dental implants and cover and protect teeth which have had extensive decay, numerous fillings or root canal therapy.
A Smile to Express the Real You
When you partner with Dr. Franzen, you will show the world who you really are. Contact his office today to arrange a cosmetic dentistry consultation. He and his team will give you a complete picture of how your smile can change.