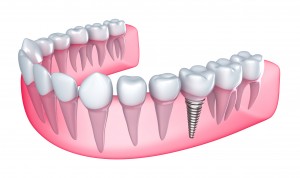 If you are missing any teeth—one, several or even all of your teeth—then you know the consequences are nothing to smile about. And we mean that literally. Many people who have missing teeth are reluctant to smile. An incomplete smile can make anyone self-conscious, which then may lead to diminished self-confidence. Furthermore, missing teeth can affect your nutrition and health. Even one tooth missing can impact the kinds of foods you may or may not be able to eat. Therefore, the importance of replacing missing teeth cannot be overstated. The question is: what is your best choice for tooth replacement? Although there are several prosthetic options, perhaps the most natural looking and performing are dental implants. In Milwaukee, dental implants are the expertise of prosthodontist Dr. Barry R. Franzen.
For the Finest Dental Implants, Milwaukee Turns to Dr. Franzen
Dental implants are comprised of two parts. The first is a small titanium post that Dr. Franzen surgically places in the jawbone beneath the open socket of your missing tooth. This implant acts similarly to the root of one of your natural teeth, and as such offers several benefits. Firmly implanted in bone, the post provides a solid anchor for the restoration that you and Dr. Franzen decide is best. With dentures, for example, you won't have to worry about slippage when you chew or speak.
In addition, a dental implant recreates the relationship between a tooth root and surrounding bone tissue. In so doing, the implant stimulates healthy bone tissue growth, which is necessary in order to maintain a strong and healthy bite, as well as to avoid the facial sagging that is common among people with missing teeth.
The second part of a dental implant is a restoration, which can be a porcelain crown, bridge or denture. We make your restoration from quality materials in order to ensure a completely natural appearance. You'll be able to speak and smile confidently, knowing that your replacement teeth are firmly secured with dental implants.
Schedule an Appointment Today
To learn more about dental implants or any of the other services provided by Milwaukee dentist Dr. Barry Franzen, call our office today. Our state-of-the-art dental practice warmly welcomes patients from throughout communities in Milwaukee, WI, Greenfield, West Allis, Whitefish Bay, Cudahy, Wauwatosa, and beyond.