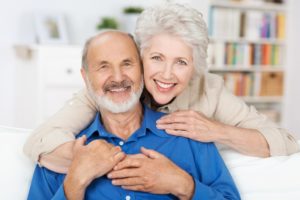 It's tough living with teeth missing. After all, there's a reason that your mouth was designed to hold 32 teeth. Each has its function. Furthermore, it's just embarrassing to smile and reveal the open spaces where teeth were supposed to be. You've endured this long enough, though, and are ready to take the necessary steps to restore your confidence and functionality. But, you wonder, "What's the best route to take?" Your dentist has an excellent solution: dental implants of Milwaukee. Discover why this is the best option.
What is a Dental Implant?
A dental implant is a member of the restorative dentistry family of services. It involves your dentist surgically inserting a titanium post into your jawbone, which acts as the root. After this procedure, there is usually a healing time required that can take up to a few months to complete. During this time, your bone will also fuse with the titanium structure.
After this part of the process is complete, you will return to your dentist to have either a custom crown, bridge, partial or denture installed. In some cases, your dentist in Milwaukee can even attach a prosthesis to the implant on the same day of the surgery.
Why Dental Implants are Better
There are several benefits that distinguish dental implants from an alternative like removable prosthetics (dentures).
Durability – One issue with removable prosthetics is that they aren't nearly as durable as dental implants. They are susceptible to breaking if you eat the wrong foods and can fall if not adhered properly to your gums. This too can cause them to break. Dental implants taken care of properly, though, can last for years because they are inserted into your jawbone using an incredibly strong material.
Appearance – Your dental implants look like natural teeth and don't alert the world that you've had a procedure done.
Function – With dental implants, your teeth function just as normal ones do. That means that you can eat just about any food you want, which is something you can't do with dentures.
Maintenance – A big advantage of dental implants is that you clean them the same way you would your normal teeth. With dentures, however, you have to remove and soak them every night.
Support – Dental implants provide support for your healthy teeth. This is important because when there is an absence of teeth, your facial structure begins to collapse, and you eventually suffer from bone deterioration.
When you compare, it's hard to argue against the benefits of dental implants. They offer a way to overcome what may have appeared to be a dismal situation at first. Furthermore, they dispel the myth that the only way to address tooth loss is to get a set of removable dentures. Thus, a new day has dawned, and your dentist is here to lead you into it.
About the Author
Dr. Barry R. Franzen earned his DDS degree from the Marquette School of Dentistry and then went on to receive his prosthodontic training at the University of Missouri and Truman Medical Center. While there, he focused on esthetic replacement teeth and implant dentistry. Dr. Franzen is also a Fellow Member of the International Congress of Oral Implantologists. He practices at Barry R. Franzen, DDS and can be reached for more information through his website.