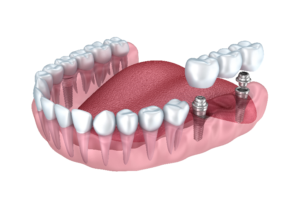 Are you among the 120 million adults in the United States who are missing at least one tooth? If so, you now live with daily challenges as chewing and speaking have become more difficult. Not to mention, you may find yourself hiding your smile because you have become insecure about your appearance. To fill the empty space, you have plenty of options. Among the most popular are a bridge or dental implants in Milwaukee, but which is the right choice for you?

Bridge vs. Dental Implant
A bridge has been one of the most popular options to replace one or more missing teeth for decades because it provides an affordable and convenient solution. Using impressions, prosthetic teeth are created to fill the empty space. The bridge is then held in place by attaching custom-made dental crowns to the adjacent teeth.
Dental implants are far different. When a single tooth is missing, a dental implant post is surgically placed into the jawbone to replace the tooth root. Then, an abutment is used to attach a custom-made dental crown to the post. This method can also be used to replace several missing teeth in a row. A bridge of prosthetic teeth is created. Instead of using dental crowns to hold it in place, one or two implant posts will be used instead.
Which is the Right Option for Me?
There are pros and cons to each option. A bridge provides you with a convenient solution that will not require surgery; however, you must have healthy teeth to support it. In addition, it will not stop bone loss. As a result, additional tooth loss may occur in the future.
Dental implants offer over a 95% success rate and closely look and function naturally. They are also the only tooth replacement option that can stop bone loss in the jaw. While they are the next best thing to your real teeth, it will require surgery and a somewhat lengthy treatment process. In addition, you must have enough bone density to support the implant posts and you must be free of health conditions or lifestyle factors that inhibit your body's ability to heal or fight infections.
When making your decision, you must also consider what life will be like with each option. With a dental bridge, they will require maintenance over time. Dental implants are cared for similarly to your natural teeth, but you must take extra time to clean around the abutments to reduce your risk for infection.
Dentist Near Me for a Complete Smile
If you are tired of living with tooth loss, it is time to see if a bridge or dental implant is the right solution for you.
About Dr. Barry R. Franzen
Dr. Barry R. Franzen provides exceptional dental care to the community. Due to his advanced training and continued education, he offers the latest advancements in dentistry, including dental implants. If you are ready to complete your smile, contact our office today to schedule your consultation.