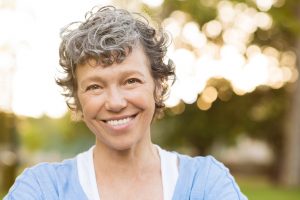 Walking into a restaurant feels discouraging when you can't order your favorite meal. In fact, you usually just order soup so you don't have to chew in front of other people. This is what life feels like when you live with a missing or failing tooth. Did you know that dental implants in Milwaukee can complete your smile, allow you to eat your favorite foods again, and protect your oral health?
How Missing Teeth Affect Your Oral Health
When you lose a tooth, it's a good idea to replace it as soon as you can because the impact on your oral health begins right away. Without a root, your jawbone begins to deteriorate because it has nothing left to support, which also eliminates support for your remaining teeth and also changes the appearance of your face.
Without a replacement tooth, your remaining teeth can begin to shift into the open space. This increases your risk of fractures and other damage to your remaining teeth because it causes bite misalignment. Unfortunately, a missing tooth often leads to more tooth loss.
How Does a Dental Implant Improve Your Oral Health?
A dental implant restores both your root and the crown of your tooth, which protects the health of your jawbone and your remaining teeth. A titanium post is placed into your jawbone and it creates the foundation for your new tooth, or porcelain crown. There is no other tooth replacement option that can fully restore and closely mimic your natural tooth.
What are the Benefits of Dental Implants?
With a dental implant, you'll enjoy all the function you had before your tooth loss such as chewing, eating, smiling, and talking with ease. Implants are also easy to care for as you'll be able to brush and floss as you were used to before. You'll enjoy great longevity from your dental implant as it has the potential to last a lifetime with excellent home care and regular dental checkups. This also makes implants a cost effective long-term investment for your oral health.
Will Dental Implants Work For Me?
Dr. Barry Franzen has extensive training in the field of prosthodontics and implant dentistry. He can determine if implants are right for your needs during a thorough examination and with x-rays. If you're living with multiple missing or compromised teeth, Dr. Franzen can discuss using implant supported prosthetics such as a dental bridge, partial, or full denture to restore both beauty and function to your smile.
With more than 30 years of experience in restoring smiles, you can rest assured that Dr. Franzen is the dentist in Milwaukee you can trust for your tooth replacement. Contact our office today to schedule your consultation with Dr. Franzen.