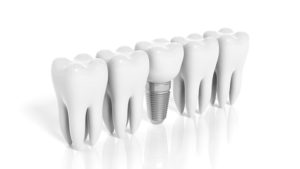 Your home oral hygiene habits are vital to protecting the health of your teeth and gums, but your smile also relies on the care you receive from your general dentist. Unfortunately, there may come a time when your dentist can no longer provide you with the services you need, such as when needing dental implants in Milwaukee. Instead, it may be in your best interest to see a prosthodontist. As a specialist in the replacement of missing teeth, they can safely and effectively complete your smile.

Prosthodontist vs. General Dentist
Many general dentists offer dental implants as part of their services; however, you will often need to be referred to another location or an oral surgeon for the placement of the implant posts. Not when choosing a prosthodontist.
In addition to earning their dental degree, a prosthodontist has furthered their education by two to three years to specializes in restorations. They can treat a variety of oral health issues with personalized solutions to rehabilitate the health, function, and appearance of your teeth.
Why Do I Need a Prosthodontist for Dental Implants?
Due to their advanced training, they can fix the underlying issue that has lead to your tooth loss while also providing you with the solutions you need to fill the empty space. They do more than just place the implant posts. They also address issues with your jawbone and gums to ensure that your procedure is a success.
They will promote optimal oral health to create the right foundation for a successful procedure. Then, they will pinpoint the precise location for your implant posts to be placed to ensure their long-term success.
A prosthodontist can treat even the most complex tooth loss cases—no matter if you are missing a single tooth or an entire arch. They will create the customized treatment plan that you need to restore your smile and oral health.
After placing the implant posts, they will continue to be by your side to help ensure that your new smile lasts for a lifetime. If a problem should arise, like an infection, they can provide the quick intervention you need to restore your oral health to help prevent implant failure.
Invest in Your Smile Today
If you are ready to replace your missing teeth with dental implants, do not Google, "where is a dentist near me?" Instead, look for a trusted and reputable prosthodontist in the area. With the right specialist by your side, you will make a true investment in your smile and your quality of life.
About Dr. Barry R. Franzen
After earning his dental degree from the Marquette University School of Dentistry, Dr. Barry R. Franzen continued his education in prosthodontics, focusing on the esthetic replacement of the teeth and implant dentistry. As a specialist in the field, he can treat your tooth loss using the latest advancements in dentistry. If you are ready to improve your quality of life, he can help. Contact Milwaukee Dental Implants today to schedule your consultation for a complete smile.