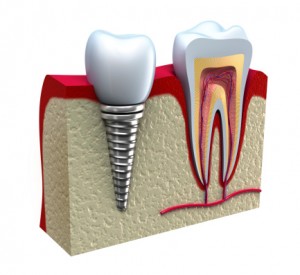 If you have missing teeth, then perhaps you've been looking into your options for tooth replacement. While there are several choices, including dentures, partial dentures or a crown and bridge, none are quite as lifelike and functional as dental implants. As a prosthodontist with extensive professional experience and training, Dr. Barry Franzen is Milwaukee's Dental Implant Expert. With his expertise, you'll once again have a complete smile and renewed oral health.

What Is A Dental Implant?
A dental implant is a small titanium post that Dr. Franzen will carefully embed in the jaw through a minor surgery. Unlike other tooth replacement options that only provide a substitute for the crown of the tooth, an implant replaces the lost tooth root as well.
This titanium post performs two important functions. First, it becomes the sturdy anchor upon which Milwaukee dentist Dr. Franzen secures the new tooth restoration, which can be a porcelain crown, bridge, partial denture or even a full denture.
Second, as this biocompatible titanium post bonds with the jaw bone, it spurs new bone tissue growth. This prevents bone deterioration that often occurs when teeth have been missing for a long period of time. This bone deterioration can cause the sagging facial appearance commonly seen among people with missing teeth and even those with tooth replacements that only rest on top of gum tissue.
What Can I Expect After I Get Dental Implants?
After the mouth is fully healed from this surgery—usually between three to six months—patients return to our Milwaukee dental practice so Dr. Franzen can prepare the implant for a tooth restoration. He will expose the implant beneath the gum tissue and place a small abutment on top to hold the restoration in place. In a short couple of weeks, the permanent restoration is attached and a smile is whole again. With a new implant and restoration, patients are able to eat and speak with confidence again.
What Technology Is Used To Place Dental Implants?
Because the precise placement of implants is so important to the success of the procedure, Dr. Franzen uses Astra Tech's computer-guided implant technology. This system creates a 3D model of the jaw that allows us to place dental implants with pinpoint accuracy, so our patients have the greatest level of support and comfort. Using Astra technology, Dr. Franzen expertly places single tooth restorations, partials and full-mouth implant supported dentures.
Call Our Office Today
If you'd like to learn more about how Milwaukee implant dentist Dr. Franzen can expertly restore your smile and oral health with dental implants, schedule a consultation today. We see patients from the surrounding areas, including West Allis, New Berlin, Wauwatosa, Brookfield and beyond.