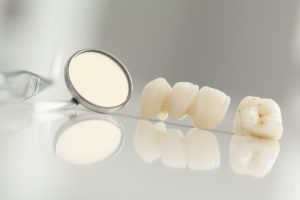 As you look back on your life, you will start to realize that there were many times you thought you were being punished or rejected of something good. In fact, you may have been being redirected to do something better. Fracturing a troubled tooth—or several—may be a blessing in disguise. It's just important to recognize when you need help restoring your smile rather than suffering from your dental issue. This is the difference between an unfortunate circumstance and improving the quality of your smile. If you take the time to visit the practice of Barry R. Frazen, DDS, our dentist can help replace your broken teeth with dental crowns in Milwaukee with strong, durable dental prosthetics built to last.
What are dental crowns?
Our dental practice offers a great dental restoration option known as a dental crown. A dental crown is a restoration designed to completely cover an individual tooth or replace missing teeth with the help of dental implant posts. This process significantly improves the tooth's health, appearance, and position within the smile. There are several reasons Dr. Rossini may recommend having a crown placed, including:
Restoring a tooth that has undergone root canal therapy
Restoring a dental implant
Rebuilding the structure of a badly injured or fractured tooth
Protecting a weak tooth from the threat of fracture
Giving an unsightly tooth a beautiful makeover
Restoring a large area of decay that's too severe for a filling
What if I need more than one dental crown?
Sometimes, patients need more than one dental crown to fully restore their smile. In this instance, Dr. Franzen will suggest placing dental bridges in Milwaukee to stabilize your smile. Dental bridges are a series of dental crowns used to strengthen damaged teeth or replace several missing teeth. Multiple dental crowns are attached together to create the bridge. By being cemented to natural surrounding teeth, a dental bridge can restore the strength of your natural teeth and overall smile. This same process can be used to replace multiple teeth with one dental implant post as well. The dental porcelain we use can match your natural teeth, camouflaging your restorative procedure among your original teeth. These restorations are truly versatile!
Am I a good candidate for either dental crowns or bridges?
Have you been experiencing difficulties eating the foods you like due to a broken tooth or sensitive teeth? Our cosmetic dentists would be more than happy to determine whether dental crowns or bridges are right for you during a consultation. During your visit, Dr. Franzen will assess your teeth and gums. This way, we can steer you towards the treatment plan that will truly benefit you. Our office serves the cosmetic and restorative dentistry needs of residents in Milwaukee, West Allis, Waukesha, Southeast Wisconsin, and many more surrounding areas. Give us a call today to make your appointment!