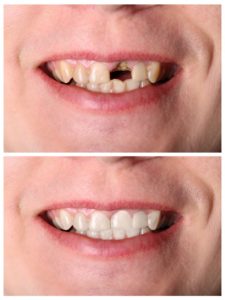 You have memories of going to Lambeau Stadium as a child, sitting among the other "Cheese-Heads" chomping on hot dogs and sipping on hot chocolate, bundled up under layers of Packers gear to keep you warm. But, since you cracked your tooth you can't imagine sitting out in the cold and eating snacks. The pain in your tooth would be unbearable. You're considering getting a dental crown in Milwaukee, but you want to know more about the process.
What is a Crown?
A dental crown is a fixed prosthetic device that is cemented to existing teeth or implants, and can only be removed by your dentist in Milwaukee. Made from porcelain or ceramic, crowns can be made to match the natural color of your teeth.
What a Dental Crown Can Do for You
If you have some of these issues a dental crown may be the answer for you.
The Missing Piece of the Puzzle – A crown can replace a large filling when there isn't enough tooth remaining.
The Great Protector – If your tooth is weak and vulnerable to fracturing. A crown can work to protect it.
An Agent of Restoration – If your tooth is fractured, a crown can restore it.
A Bridge over Troubled Spaces – Your crown can fix the problem of missing teeth, permanently joining with those surrounding the vacated area.
Shelter from the Storm – If you've received an implant, the crown can provide the protective covering for it.
Shaping Your Reality – If you have discolored or poorly shaped teeth, a crown can return them to normal appearance and function.
The Capital – If you've had a root canal treatment, the crown serves as the cap and last line of defense to protect it.
How the Process Works
The process of installing a dental crown normally takes two separate dentist visits. At the first appointment your dentist will examine your teeth to make sure that it can support the process. Next, he will begin filing it down to prepare for the temporary crown. When the permanent one is ready, you will return for the second visit and have the temporary installment removed. Your dentist will then fasten the new crown to your teeth with a special adhesive.
After you received your new crown remember to treat it with the care and attention that you would your natural teeth. Be sure to continue to brush and floss at least twice a day, and maintain twice a year visits with your dentist for cleanings and examinations.
About the Author
Dr. Barry R. Franzen received his DDS degree from the Marquette University School of Dentistry and then went on to receive his prosthodontic training at the University of Missouri and Truman Medical Center, during which time he focused on esthetic replacement teeth and implant dentistry. He practices at Berry R. Franzen, DDS and can be reached for more information at his website.