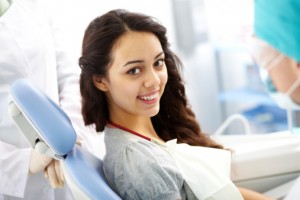 If you have grey teeth, chipped teeth, or missing teeth, you may want to improve your dental health, but you don't know where to start. Dr. Barry R. Franzen in Milwaukee, WI is here to help. As a prosthodontist, Dr. Franzen is highly skilled and knowledgeable in general dentistry practices, but specializes in cosmetic and restorative dentistry. Schedule a consultation today to find out how Dr. Frazen can help you have the smile you've always wanted.
The Clear Choice to Improve Your Dental Health In Milwaukee, WI 53227
Many people live with stained, chipped and cracked teeth for years. While these dental concerns may seem minor, they can negatively affect your overall health. In Milwaukee, WI, Dr. Barry R. Franzen is a knowledgeable resource to provide you with an individualized dental health plan. If you've considered or been advised to receive cosmetic or restorative dentistry, Dr. Franzen's years of prosthodontic experience and study prepared him to provide optimal treatment for a wide range of dental health concerns. Contact us to schedule an appointment today.
What is Prosthodontist?
Prosthodontics is one of the nine dental specialties recognized by the ADA. Dental students who specialize in this area complete two to three years of additional training to become experts in numerous procedures including crowns, dentures and dental implants. According to the Marquette University School of Dentistry, prosthodontists emphasize "restoring optimum function and esthetics to your smile."
Cosmetic Dentistry
While cosmetic dentistry is not one of the specialties recognized by the ADA, prosthodontic specialization prepares dental practitioners to do the work of cosmetic dentistry. While there are skilled general dentists who can provide cosmetic dentistry, Dr. Franzen's additional years of education focused on returning smiles to their natural look and feel, makes him ideal to serve your cosmetic dentistry needs. Our cosmetic dentistry services include porcelain veneers and crowns, teeth whitening and cosmetic gum lifts.
Restorative Dentistry
Prosthodontists receive extensive training in all areas of restorative dentistry. Dr. Franzen has education and years of experience in crowns, dentures, full-mouth restoration, and more. Our office provides expert dental health plans for each patient regardless of your restorative dentistry needs. Dr. Franzen is at the forefront of denture and dental implant technologies. Don't trust your smile to any dentist, trust the restoration of your smile to our expert staff.
Dental Implants
Dental Implants are used to replace a missing tooth or teeth by implanting a biocompatible titanium root that will fuse with your jaw bone. Implants help slow or stop jawbone deterioration caused by missing teeth, and offer a more secure option compared to traditional dentures.
Dental implant technologies gained popularity during Dr. Franzen's education, and he has been at the forefront of dental implant technology services in Milwaukee for more than 25 years. The doctor's expertise in implant dentistry is recognized by his peers. He has lectured for the last fourteen years across the United States and "across the pond" in London, United Kingdom. If you're in need of replacement for one tooth or a full arch, Dr. Franzen is here to help.
Dr. Franzen Your Millwaukee Dentist
If you need cosmetic, restorative, or implant dentistry, Dr. Franzen's years of study and practice equipped him to offer the best dental treatment in the 53227 zip code. Our staff will make every visit painless. Contact our office in Milwaukee, WI to schedule your one-on-one consultation with Dr. Franzen. Welcoming patients from nearby Cudahy, Wauwatosa, West Allis, Whitefish Bay, Greenfield, and beyond.