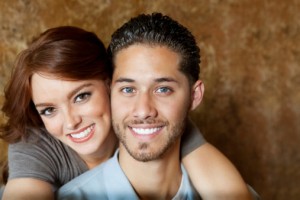 When you want to make a good first impression—at a job interview, for example, or on first date—what do you do? Wear the right clothes, carry the right accessories, and practice the right lines. You need everything to be just right. How about your smile? Is that just right or just so-so? If you need to make improvements in your smile, then count on Milwaukee dentist Dr. Barry Franzen to have the cosmetic dentistry treatment you need.
As a prosthodontist, Dr. Franzen is uniquely qualified to restore, repair and replace teeth. With advanced education beyond dental school, he has the training, skills and experience necessary to create smiles that are not only beautiful but strong and healthy, too.

To improve your smile, we offer four different cosmetic treatments:
Teeth Whitening
Porcelain Veneers
Porcelain Crowns
Cosmetic Gum Lifts
If you do have a job interview coming up or another special occasion, teeth whitening is an economical investment that can give you the winning edge. Dr. Franzen prefers a take-home whitening system that provides long-lasting results and tends to cause less tooth sensitivity than a rapid acting in-office treatment. We'll take impressions of your teeth in order to make custom mouth trays that you will fill with the professional grade whitening gel we provide. Just wear these trays for about 20 minutes per day for two weeks and you'll have a whiter and brighter smile.
If enhancing your smile requires more than whitening because some of your teeth are chipped, broken, crooked or misshaped, then consider porcelain veneers. Made of dental porcelain or composite resin, these thin coverings are cemented to the front side of your teeth to conceal the smile you have and give you the smile you want. Similarly, a porcelain crown completely encapsulates a tooth. If decay, injury or a root canal has damaged a tooth to the point that it not only appears unattractive but is also not functioning properly, then a crown will preserve and protect that tooth.
Finally, some patients have beautiful teeth hiding behind excessive gum tissue. In this case, Dr. Franzen can perform a cosmetic gum lift, also called a gingivectomy. During this procedure, the Milwaukee dentist uses either a soft tissue laser, electrosurgery or traditional surgery to precisely remove excess tissue. Recovery is usually short, and then you'll have a balanced and natural looking smile.
Call Our Office Today
For more information about treatments available from Dr. Franzen, the cosmetic dentist Milwaukee trusts, contact our office today. Anyone on our staff will be glad to speak to you. We see patients from the surrounding areas, including West Allis, New Berlin, Wauwatosa, Brookfield and beyond.