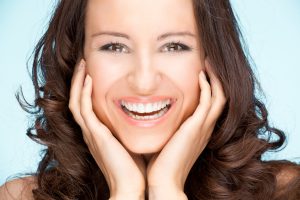 Our teeth are a big part of the impression we leave on others. If you feel self-conscious about your smile and have begun to avoid social interaction, there is hope. Dr. Barry Franzen has the advanced training and experience to help you envision and create a healthier and brighter smile that fits your needs and lifestyle. With expertly delivered cosmetic procedures, your oral health and personal confidence will soar to new heights. Let your cosmetic dentist in Milwaukee show you the many options available to help you achieve your best smile yet.
Teeth Whitening
If you are looking to freshen up and revive your smile, teeth whitening is one of the most popular cosmetic procedures. With our in-office treatments you can experience a dramatic change in as little as an hour. If you prefer a more gradual process, we offer a home treatment system that requires about two weeks of consistent applications. The take-home procedure tends to last longer, does not cause tooth sensitivity and is less costly than the in-house method. Whether done at the office or from the comfort of your own home, the results will produce the same bright, white smile.
Porcelain Veneers
If you are faced with chips, cracks, stains or small misalignments in your teeth, porcelain veneers are a great choice. Made from thin shells of high-quality porcelain, veneers are custom designed to fit the shape, size and color of your natural teeth. Dr. Franzen will take photos and impressions of your teeth and discuss options with you to create a new smile based on your preferences. Once your personal veneers are created and ready for placement, Dr. Franzen will remove a small amount of tooth enamel so the veneer will fit properly over your existing teeth. The results will produce a natural-looking smile that exudes confidence, youth and good health.
Porcelain Crowns
A crown is a restorative procedure designed to bring back oral health, as well as improve aesthetics. If you have cracked, broken, decayed, or worn teeth, a crown can return stability, strength, and proper function to it. Placed over the tooth and made to fit snugly, a crown will protect your tooth from further damage and preserve your jaw's correct natural alignment. With our precise color-matching system, we can find the right shade of porcelain to blend with your smile. Porcelain crowns are built to last and can be created and placed in a couple of short appointments.
Cosmetic Gum Lifts
If it is not the look of your teeth that bothers you, but rather your oversized gums, we have a procedure that can remove excess gum tissue and create the smile balance you deserve. A gum lift, also known as a gingivectomy, is a simple cosmetic procedure performed by soft tissue laser or traditional surgery. We will discuss with you what options are best for you and what to expect during the procedure. This is just one more way we can help you to achieve the bold and dazzling smile you have always wanted.
Questions?
Your dentist in Milwaukee would be glad to answer any questions you may have and talk with you about your individual needs. If you are not pleased with your smile features or are experiencing oral health issues, please contact us today and get started right away on a brand new smile.