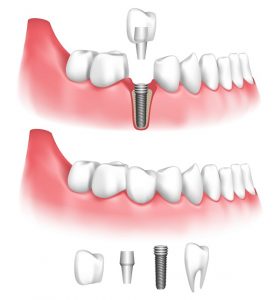 Who wouldn't want a healthy and beautiful set of teeth? Gaps from tooth decay, gum disease or oral injury leave smiles unattractive and unhealthy. Dr. Barry R. Franzen, dentist in Milwaukee, places dental implants, reliable, durable and lifelike options for tooth replacement and outstanding smiles.
What is a Dental Implant in Milwaukee?
The dental implant has changed the face of restorative dentistry, giving patients realistic, strong tooth replacements which reside right in the jaw. Resembling natural teeth, implants have 3 parts: a titanium screw surgically inserted into the jaw, a metal alloy post which extends above the gums, and a custom-made porcelain crown.The dental implant is a true artificial tooth from root to crown.
This prosthetic looks very natural, and how it feels and functions is indistinguishable from a real tooth. While tooth extraction creates big gaps, it also compromises the size and integrity of gum tissue and supporting jaw bone. Resorption occurs quickly, leaving patients with shorter bite heights and problems with eating and speaking. While traditional dentures and bridgework span the gaps, they cannot exercise and strengthen the jaw bone because they simply rest upon it.
Dental implants support gums and keep bone strong. The jaw bone bonds to the titanium implant device through an amazing process called osseointegration. Discovered back in the 1950s, osseointegration bonds implant and bone, retaining the jaw's size and density and also keeping adjacent teeth in line. No other restoration benefits your oral health as well.
Dental Implants are Very Popular
The best candidates for dental implants are older teens and adults in good oral and systemic health and who have strong bone. If the jaw is thin, Dr. Franzen augments it through special procedures. Fortunately, he possesses the highest of skills in implant dentistry and has been a lecturer on the process throughout the United States and Great Britain for years.
In general, implants take a consultation and a placement appointment, plus a final restoration visit. Implant placement is guided by sophisticated CAD/CAM technology. After placement, the site must heal for several weeks.
However, sometimes Dr. Franzen can place what's called an "immediate-loaded prosthetic" directly on the implant before healing and integration occurs. Cases vary, and the dentist advises the patient on the best procedure for his or her individual needs.
In addition, patients who brush, floss and get routine 6-month exams and cleanings do well with implants. Good hygiene staves off an infection called peri-implantitis, similar to gum disease in how it destroys soft tissue and bone. Smokers should quit tobacco or, at least, abstain from cigarettes 3 days before and after receiving implants.
With good care, individuals retain dental implants for decades. The American Academy of Osseointegration says implants have success and retention rates of 90 percent or more.
For multiple missing teeth, Dr. Franzen often suggests implant-supported bridgework or dentures. These prosthetics are lifelike and restore youthful facial appearance.
Look Good and Feel Good
Dental implants from Dr. Barry R. Franzen change your appearance and your outlook.. For a  restorative dentistry consultation, contact the office and speak to a friendly staff member.