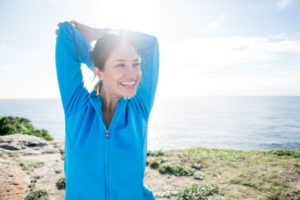 Summer is here, and you know what that means – graduations, weddings, vacations, and more! It also means more free time for the kids. Both of these things make summer a perfect time to visit your cosmetic dentist in Milwaukee. You want to look your best for these events, and there's no better place to enhance your smile. Read on to learn about the 5 ways that we can improve your smile this summer.
ClearCorrect Aligners
Are you tired of having crooked teeth? ClearCorrect aligners may be perfect for you! You will wear a set of clear plastic aligners over your teeth that gradually straighten them. Unlike clunky metal braces, the aligners are discreet and comfortable. They are practically invisible on the teeth, so when people take pictures of you on vacation this summer, no one will notice!
Porcelain Crowns
If you have a tooth with a crack or chip that makes you self-conscious, you might benefit from a porcelain crown. Your dentist will create a custom cap that goes over your tooth. Not only can it strengthen and protect your tooth, but it can restore its appearance as well. Dental porcelain is powerful and durable. It can also be shaded to match the rest of your smile. No one this summer will even realize you had dental work done!
Direct Bonding
Do you have several small stain, chips, or gaps in your teeth and want to get them all fixed in one appointment? Direct bonding is the choice for you.
Your dentist will first apply a composite resin to any missing or damaged enamel (the outer layer of the tooth) that matches the color of your tooth. Then he will use it to sculpt your tooth into the perfect shape. Often the whole process takes less than an hour, and the results can last for a decade or more. You could visit the office on the morning before a graduation, and be good to go for the ceremony!
Teeth Whitening
A lot of people are afraid to smile in photos because they are ashamed about their teeth not being white. Years of drinking coffee, tea, and wine, as well as the natural aging process, can stain teeth, but your dentist will provide you with a whitening kit you can use in the comfort of your own home.
It will consist of custom-made mouth trays and a potent bleaching gel that is much stronger than anything you can find at a store. By using the kit for about two weeks, your teeth can become up to 8 shades whiter. Perfect for showing off in pictures on the beach!
Dental Implants
Missing teeth can impact your self-esteem to the point that you might be afraid to smile. Dental implants are the best way to replace your missing teeth, as they offer more benefits than any other tooth replacement option. These benefits include:
Strong bite. Implants allow for more biting power than dentures or bridges.
Longevity. They are meant to last decades or even a lifetime.
Easy maintenance. Simply brush and floss your implants like you would natural teeth.
Preserving the integrity of your jawbone. Dental implants fuse to your jawbone, stimulating it through chewing and biting. Other tooth replacements don't do this, allowing your jawbone to gradually deteriorate in the areas where your teeth are missing.
Dental implants might seem expensive, but as you can see, they are the best possible investment in restoring your smile.
No matter what events you're going to this summer, your cosmetic dentist in Milwaukee has got you covered. Come on in and make your smile shine this summer!
About the Author
Dr. Barry R. Franzen works to provide everything he can to his patients at Milwaukee Dental Implants. He has studied and lectured intensely on dental implants, and has been chosen as one of Milwaukee Magazine's Top Dentists of Milwaukee in 2003, 2009, and 2016. In addition to his expertise in dental implants, he provided other exceptional means of restoring and improving the appearance of teeth. To learn more about he could help beautify your smile, click here or call (414)-543-5432.