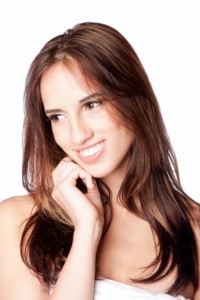 Showing off a dazzling smile is one of the most rewarding experiences anyone can have. It makes sense – a beautiful smile is one to behold. It exudes confidence that's insatiable. Did you know your smile is one of the first traits someone notices? It's not your hair or your eyes, it's your teeth. If your smile is a tad lackluster or could use a little TLC, we have just what you're looking for at our office in Milwaukee, WI. At this stage, metal braces or teeth whitening may not be attainable options for your particular dental situation. Porcelain veneers are your best bet, and instantly transform stained, chipped, and misaligned teeth into million-dollar smiles. Dr. Barry Franzen is the cosmetic dentist Milwaukee residents can trust. Milwaukee porcelain veneers can offer beautiful results!
What Are Veneers and How Do They Work?
If you're looking for drastic results and don't have much time to spare, porcelain veneers are the best fit (see what we did there?). They are very thin shells made from tooth-like material that are designed to cover the front surface of teeth. Porcelain is the preferred choice for veneers because the material successfully wards off staining and has a light-reflecting quality that is similar to what you see with natural teeth. Once they are placed on the front of the teeth, they can conceal imperfections and change the size, shape and length of teeth. The best part is nobody will ever know you've had any work done because of how well they blend in with the rest of your tooth structure.
Are There Any Benefits?
You bet there are! Besides what has already been pointed out, there are additional benefits to choosing porcelain veneer treatment. Though it can be a pricey procedure, there's no doubt you will reap all of the benefits associated with receiving this custom therapy:
It's nearly impossible to tell the difference between veneers and natural teeth because of how well the porcelain material blends in with the surrounding teeth.
Porcelain veneers won't be stained by cigarette smoke, coffee, tea, red wine, and more.
Feel free to choose which shade of white suits you best. Don't make any hasty decisions – there are many different shades to choose from.
Veneers can be a good substitute for caps, which require heavy removal of your natural tooth structure.
We Can Help
The only way to know for sure is if you schedule a consultation with Dr. Franzen. Our office in Milwaukee, WI is ready to help with porcelain veneers. Give your smile the dazzle it deserves. Milwaukee cosmetic dentist, Dr. Franzen, is ready to give you the smile of your dreams. We accept patients from all over, including West Allis, New Berlin, Wauwatosa, Brookfield and beyond.