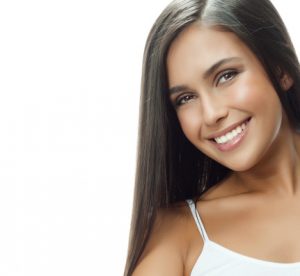 Accessories can make an outfit. Choose the right jewelry, shoes, tie or handbag and ordinary clothing can become a fashion statement. There is, however, one accessory that goes with every outfit you put together. A beautiful smile. If your smile isn't quite what you'd like it to be, then consider porcelain veneers. In Milwaukee, cosmetic dentist Dr. Barry Franzen uses porcelain veneers to transform a flawed smile into the ideal accessory for any occasion.
Why Choose Porcelain Veneers?
Often called instant orthodontics, porcelain veneers make quick work of correcting a variety of trouble spots in your smile. They can be used to conceal stained, chipped or broken teeth and they can even make a crooked smile look straight.
In the hands of a skilled cosmetic dentist such as Dr. Franzen, you can be certain that your new smile will look natural. Using photographs, x-rays and molded impressions, Dr. Franzen carefully ascertains the best size, shape and color for your new teeth. He also evaluates your complexion and even your hair color in order to design veneers that are complementary to your unique facial features. And because no smile is absolutely perfect, he can even incorporate slight imperfections into your veneers for an even more natural appearance. Based on Dr. Franzen's design, your porcelain veneers are custom crafted by a skilled ceramist in a cosmetic dental lab.
Porcelain Veneers and You
Creating your new smile with porcelain veneers typically necessitates two appointments in our Milwaukee dental office. At the first, Dr. Franzen will prepare your teeth for veneers. After administering a local anesthetic, he will gently remove a small amount of tooth enamel. This is done to ensure that the veneers fit naturally in your mouth and adhere more securely to the remaining tooth structure. Molded impressions are then taken of your teeth that the ceramist uses to fabricate perfectly fitting veneers. We'll also use these impressions to give you a set of temporary acrylic veneers to wear while the lab is working on your new smile.
In a couple of weeks, you'll return to see Milwaukee cosmetic dentist Dr. Franzen. He'll remove the temporaries and check each veneer against the tooth it was made for. Then your porcelain veneers are carefully bonded into place. The finished product is a smile that is beautiful, natural and the perfect complement for any outfit or occasion.
For Porcelain Veneers in Milwaukee, Call Our Office Today
If you would like to consider having your smile enhanced with porcelain veneers, then schedule a consultation with Dr. Barry Franzen in Milwaukee, WI.